Jort Terwijn winner BioPartner Leiden Jazz Award 2021

Because Jort Terwijn had a performance elsewhere, the prize was received on his behalf by Daan Leever, the (electric) bassist of the band.

The Nijmegen bassist Jort Terwijn and his band Önder win the Biopartner Leiden Jazz Award 2021 and a prize of € 1,500.
The jury was out relatively quickly. Although the difference in quality was also small this year, the double bassist Jort Terwijn, leader of the least jazzy band Önder, which constructs soundscapes with electronically processed low tones, is declared the winner.
The jury finds his way of playing original, but there is also a good balance between control of the whole and individual artistic freedom within the band.
The other candidates: trumpeter Antonio Moreno, drummer Tristan Guillaume, pianists Aseo Friesacher, Daeyeon Shin and Carlos Cippelletti also have their strengths. The stylistic differences between the candidates are pleasantly large, according to Ken Vos in the Leidsch Dagblad of 13 September 2021.
For photos of the Leiden Jazz Award 2021, made by members of the Leiden Amateur Photographer Association, you can click here to go to a Google Photo site, where you can even download the photos. Thanks to the members of the LAFV.
For more info about the association see their website.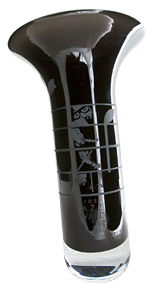 The winner received a prize consisting of the following components:
A money prize of € 1.500;
Extra: the winner can play (fully paid) as a guest player at a festive meeting at BioPartner 5 in the Leiden Bioscience Park with the Leidse Geluiden-combo, late in the afternoon of Monday September 13;
Of course your name will be engraved in the glass trophy as the winner of the 2021 edition of LJA;


The other five finalists received a document with a declaration of participation/reaching the final.
The 2021 Jury was:
Wouter Turkenburg (non-voting chair, former head of jazz-department Koninklijk Conservatorium Den Haag),
Soo Cho (pianist, composer),
Sebastiaan van Bavel (pianist),
Ken Vos (journalist Leidsch Dagblad)
Fleurine Verloop (singer, chair of BIM),
Marit van der Lei (singer),
Wim van Vliet (programmer Hot House Leiden).

The board of Leiden Jazz Award aims for all participants in the final round to perform on one or more stages in the Leiden region. The board has a regional network including many stages and theatres. Participation will create opportunities!