With reservations the competion and finals will take place Friday September 10 and Saturday 11.
We are a bit sad, but also lightly glad. Sad because corona tricked us for the second tim, but also optimistic because Stadspodia Leiden (the Leiden theatres) have given us the opportunity to get a come back in September!
We hope to present Leiden Jazz Award 2021 in September, together with Leidse Geluiden and Grand Café Van 't Huis
Six soloists or bands who have already been selected in the December-selection round will compete in a festival-like setting, but within the recognizable style and character of the Leiden Jazz Award. On the second day the winner will be selected.
We hope to see you all-in September.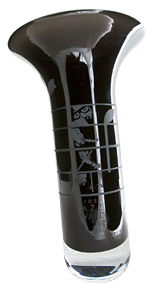 The winner of the four finalists will receive a prize consisting of two parts:
A challenge trophy, a unique crystal jazz stand, designed by visual (glass) artist Siem van der Marel, from Royal Leerdam Crystal. The name of the winner is engraved on it.
A cash prize of € 1,000.-.
Smaller cash prizes will be made available for the three runners-up.
For more information on the covid-19 measures in organizing the Award, please visit the following link.

The board of Leiden Jazz Award aims for all participants in the final round to perform on one or more stages in the Leiden region. The board has a regional network including many stages and theatres. Participation will create opportunities!