The competitors of the selection
Jort Terwijn (Nijmegen, 1993) – Conservatorium of Amsterdam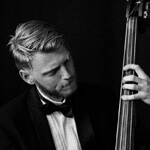 Jort Terwijn is a double bass player form the Netherlands. 
Coming from a musical varied upbringing he likes to listen and play a wide range of music from Japanese techno to Nirvana and from Debussy to Bulgarian folk. Jort works in the fields of jazz, improvised music, theater and everything in between.

ÖNDER is the debut album and band name of the Amsterdam-based double bassist/composer Jort Terwijn, accompanied by bass clarinettist Federico Calcagno, bass guitar/fx Daan Leever and drummer Nick Tessalonikefs. ÖNDER contains five stories about serial killers
In his short career he collaborated with the likes of Ben van Gelder, Joris Roelofs, Reinier Baas and Benjamin Herman among a lot of others. Jort studied at ArtEZ University of Arts (Arnhem), L'ESMUC (Barcelona) and Conservatorium van Amsterdam. Here he followed lessons by renowned international bass players like Ernst Glerum, Horacio Fumero, Joe Martin and Joe Sanders. Jort can be found on records from BAZGA (Unity Records), Lucas Martinez Project (FreshSounds) and Teis Semey Quintet (Triptekk) among others.


Antonio Moreno (1999, Voronezh, Russia) – Conservatorium of Amsterdam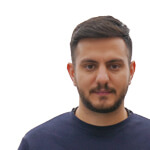 Co-lead by trumpetist Antonio Moreno and drummer Aurel Violas, this quintet crafts its own original music, an adventurous flamenco-infused jazz. Combining spontaneity with precision, the five musicians put together a subtle blend of sweet and spicy harmony.
Accompanists:
Aurel Altviolen (Drums, 30)
Benjamin Thiebault (Piano, 30)
Arin Keshishi (E.Bass, 28)
Lucas Martínez (Sax, 26)
Antonio Moreno (Trumpet, 22)


Tristan Guillaume (Hanoi, 1997) – Koninklijk conservatorium Den Haag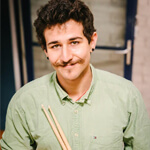 Hanoi-raised French drummer Tristan Guillaume has been composing and arranging for various ensembles for just over a decade now. After having studied in Hanoi, Brest, and then Dublin, he later moved to Den Haag in 2019.
Accompanists:
alto Saxophone: Jose Cervera Minguez
Tenor Saxophone: Pietro Mirabassi
Guitar: Dani Font
Bass: Sang Geun Lee
Drums: Tristan Guillaume

Aseo Friesacher (Wenen, 1996) – Koninklijk conservatorium Den Haag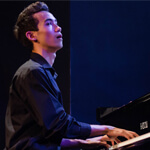 Aseo Friesacher is a pianist and composer born in Vienna, Austria. Since an early age he was very interested in music and he was able to pick up melodies and rhythms easily. It was soon clear to him that a music career is the only thing he wants to pursue. Aseo started to play the piano at an age of 6. He was also member of the famous Vienna Boy's Choir and got the chance to tour around the world and sing in big concert halls like the Carnegie Hall in New York or the Tokyo Opera City Hall.
At the age of fourteen Aseo found his love to jazz music by listening to songs of Oscar Peterson, Dave Brubeck and Didier Squiban. Eventually he formed his own trio with which he played in prestigious venues as the UNO-City. In 2014 the Aseo Friesacher Trio won the 1st price of the Podium.Jazz Competition in Austria. Since then Aseo became very active in the Viennese jazz scene and played in various formations and bands such as the "Princetones" and the "Libal Bigband". In 2015 he started his jazz piano studies in the Vienna Conservatory of Music & Arts and studied with Aaron Wonesch. Later he graduated at the Codarts Conservatory in Rotterdam. In addition to his musical growth he could get the chance to have workshops from several piano masters as Harold Mabern, Tamir Hendelman, Peter Beets and Cory Henry.
Currently Aseo is living in the Netherlands and continuing his studies with a Master in Music at the Royal Conservatoire The Hague. He became very active in the dutch music scene, playing in several bands: Aseo Trio, Loek van den Berg Quintet, Vishwa and Sinan's Sufidelica Project amongst others. Also in spring 2019 Aseo got accepted to be part of the Jong Metropole which is a unique collaboration between the Metropole Orkest, the NJO (National Youth Orchestra of the Netherlands) and the NJJO (National Jazz Youth Orchestra of the Netherlands). Through the Jong Metropole Aseo could collaborate with conductors like Miho Hazama and Jules Buckley
Accompanists:
Dean Montanaro: electric bass

Tarang Poddar: drums/tabla 

Andrea Leone: tenor sax

Carlos Cippelletti (Alicante, 1996) - Codarts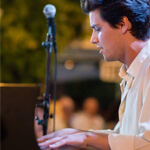 24 years old Jazz and Latin jazz pianist, Cuban Father and French Mother, born in Alicante, Spain. Two-time winner of the Latin Grammy Cultural Foundation Scholarship, and Four-time winner of the AIE Scholarship (Artists and Interpreters Association of Spain).
Accompanists:
Carlos Cippelletti (piano)
Gregorio Herreros (keyboards and synth)

Daeyeon Shin (Daejeon, S-Korea, 1996) - Koninklijk conservatorium Den Haag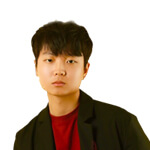 Daeyeon Shin is a composer and pianist who was born in Daejeon of South Korea. He began studying piano at the age of 16 and playing both classical and jazz. His music is based on Jazz and modern classical music.
The Daeyeon Shin trio was formed in 2016 around the Korean Pianist Daeyeon Shin.
The band also consists of Mathijs Mens on drums and Jurriaan de Kok on bass. The Daeyeon Shin trio mainly plays their own compositions influenced by artists such as Eldar Djangirov, Alan Pasqua. For the band interaction is central.
Accompanists:
Jurrian de Kok - bass
Mathijs Mens - drums