Biopartner-ABC main sponsor Leiden Jazz Award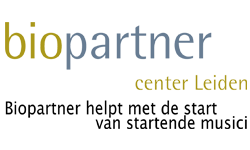 Leiden Jazz Geschiedenis Foundation is very glad to present Biopartner ABC as the new sponsor of the 13th edition the Leiden Jazz Award (2021), the yearly competition for young jazz musicians.
Biopartner continues its support that started with the 2020 edition but which due to Covid19, has did not get the attention we both hoped for. Biopartner nevertheless decided to renew its sponsorship and thereby make a 2021 edition possible.
The preliminaries of the Biopartner Leiden Jazz Award 2021 will take place on February 25 and March 11 2021, the finals on April 11. All events will be in Stadsgehoorzaal Leiden.
The winner of the 2021 edition will be invited to play at one of the meetings Biopartner organises at the Leiden Bo Science Park
Sponsor Biopartner-ABC is a non-profit foundation that offers accommodation, especially to starting Life Sciences companies. Biopartner offers flexible offices, laboratory facilities, services and support for new and growing companies that develop new products and services, in particular those related to the development of medicines and vaccines. Through mutual contacts with fellow tenants, cooperation between companies is encouraged.
Stichting BioPartner Academisch Bedrijven Centrum Leiden, or BioPartner Center Leiden is the successor of the 1984 founded Academic Business Center (ABC) and the 2002 founded Life Science Incubator Leiden (Biopartner). It is the largest 'incubator' of bio-medical and bio-technical activities in the Netherlands and has been playing a crucial role in the development of Leiden Bio Science Park (number 1 Life Science & Health- Science Park in the Netherlands, 5th largest in Europe).
Biopartner is a symbol of Leiden's future so it is a good job that it wants to contribute to the future of young jazz musicians.